Recruitment
A person interested in volunteering is interviewed informally, an application completed, 2 referees asked for and consulted and an enhanced CRB check undertaken. Volunteers of all ages above 18 are welcomed to apply, SMC being committed to equality of opportunity for everyone regardless of his or her race, nationality, religion or belief, gender, sexuality, disability age or marital status.
Induction
Once appointed, the new volunteer goes through an induction process supported by the appointed supervisor to familiarise them with the aims, policies and procedures of SMC. He/she will be provided with a job description.
Training
Training is ongoing and primarily informal, arising from day to day experiences and encounters. More formal training can be accessed through SMC training and development. Books, periodicals and leaflets are available to volunteers for reference and study.
Support
During their time with SMC, volunteers are supported directly from their appointed supervisor. Support is also available from the Centre Manager.
Expenses
Volunteer's expenses will be re-imbursed. This includes travel expenses and accommodation costs if necessarily incurred while on SMC business.
Health and Safety
SMC, wishing to avoid exposing volunteers to risks to their health and safety, adheres to the principles outlined in its Health and Safety statement.
A copy of all SMC policies and procedures, including the Health and Safety policy, are available to volunteers are held in the manager's office.
Insurance
SMC safeguards the interests of its volunteers with Employers Liability and Public Liability Insurance.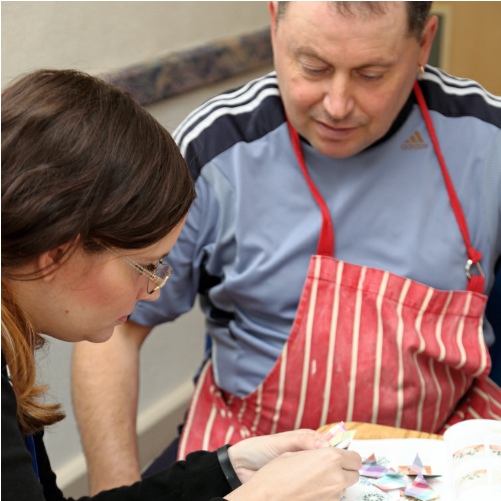 If you'd like to get involved, please
register your interest.
We would love to welcome you to our Centre. If you're interested in coming along, please leave your details with us using our online form.
If you would prefer to speak to someone first, please contact us using the follow details:
Tel: 0191 384 8100
enquiries@stmargaretscentre.co.uk
We look forward to seeing you!