The Overcoming Anxiety course will assist individuals to develop strategies and techniques using a cognitive behavioural approach.
The workshop will cover:
Understanding worry, fear and anxiety
Who is at risk
Managing problems
Awareness training and self-monitoring
Distraction
Challenging worrying thoughts and images
Managing avoidance
Problem Solving
The course runs for 6 weeks.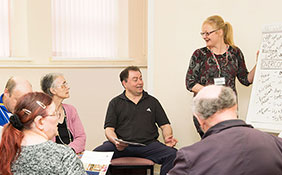 If you'd like to get involved, please
register your interest.
We would love to welcome you to our Centre. If you're interested in coming along, please leave your details with us using our online form.
If you would prefer to speak to someone first, please contact us using the follow details:
Tel: 0191 384 8100
enquiries@stmargaretscentre.co.uk
We look forward to seeing you!